Welcome to Manhattan Beach

​​​​​​​​​​​​​​Gorgeous natural splendors and high glamor coalesce in this Southern California gem

Picture a quintessential beach town, and Manhattan Beach will likely spring to mind. The affluent city, located south of Los Angeles, teems with scenic beauty, from miles and miles of impeccable coastline to striking views of the immense Pacific. Known as the birthplace of beach volleyball, Manhattan Beach lives up to its legendary status as one of the most active regions in the Golden State. Its assortment of well-heeled residents are often outside enjoying the area's sublime weather by hiking, rollerblading, cycling, and surfing.

Manhattan Beach's ideal location near El Segundo also renders it a commuter's dream, furnishing its residents with easy access to California's biggest city's greatest amenities.
And yet, Manhattan Beach residents needn't travel far to enjoy fabulous restaurants, excellent shopping, a dynamite nightlife, and a thriving arts and culture scene. Manhattan Beach's collection of unique neighborhoods, including El Porto and The Hill Section, guarantees you'll find just the right home for you and your family.



What to Love

Flourishing with activities, from golfing to body surfing
Home to several outstanding schools
An impeccable climate
Brimming with extraordinary homes



Local Lifestyle
Manhattan Beach is separated into several neighborhoods, each with its own personality and splash of beauty. But regardless of where you put down roots in this lovely coastal community, you're bound to be delighted with the warmth of its residents. Manhattan Beach locals are big on savoring their slice of California's weather. You'll frequently bump into your neighbors playing outside, whether that's out jogging or bodysurfing.



Dining, Entertainment, & Shopping

Manhattan Beach buzzes with restaurants ranging from casual to posh. is just one superb eatery out of many. Hand-cut, hyper-fresh ahi tartare with avocado and yuzu, miso-glazed Chilean sea bass, and velvety Lobster bisque are just a few of the specialties you'll find on their dazzling menu. enchants with its retro-vibe and out-of-this-world seafood. The Parisian tuna with smoked aioli is pure proof of this.
The sleek setting of is reason enough to step through its doors, but the fabulous fare will keep you coming back for more. The iconic spot serves an incredible array of sumptuous food, including pork chop Milanese with pecorino cream and wood-oven pizzas crowned with the likes of Japanese mushrooms and taleggio.
SoCal is famous for its Mexican cuisine, and the bright and cheery hammers this concept home. The snug dining room and modern Italian fare at render the trendy bistro the perfect option for date night, while Manhattan Beach Post highlights seasonal ingredients in its airy, rustic-chic venue.
Please see below for more of our favorite local restaurants:



Things to Do
Manhattan Beach may have a city-like ethos, but it remains a compact, tight-knit enclave. The city hosts annual events and festivals to bring the community together. Concerts in kick-off during the final week of June and continue on through Labor Day. More frequently, Manhattan Beach residents convene at the town's lively Farmer's Market.
Founded in 1962 by local racing legend Ted Ernst, the is one of the country's longest-running bike races, attracting residents from all over the world and thousands of spectators who enjoy watching top competitors.
The South Bay's coveted position in the global surfing scene is celebrated at the yearly International Surf Festival Six Man, which is held off and on at Manhattan Beach. It is as legendary for the warriors who brave the waves as it is for the , its famous pro-am volleyball competition. Another popular town sporting event, the , draws thousands of runners each October.
The annual offers delights to children and adults alike, and the Manhattan Beach Fireworks Festival jumpstarts the holidays in the best possible way. No matter the time of year, the persists as one of the most popular spots in the city. Located at the end of Manhattan Beach Blvd., the 928-foot-long structure is a longtime community landmark, a popular spot for strolling and fishing. It is the home of the.


Schools
Manhattan Beach Unified School District serves residents of Manhattan Beach. The district's elementary schools are zoned accordingly: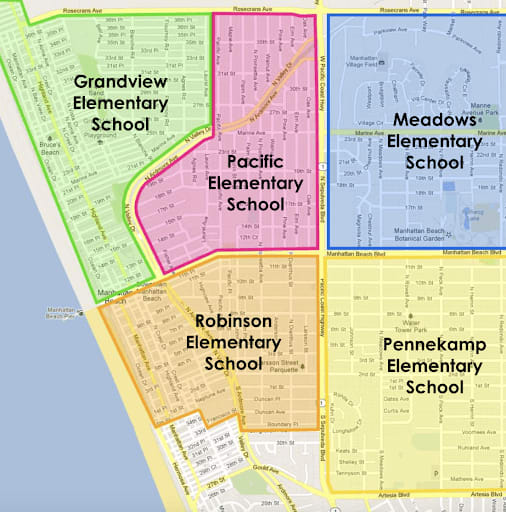 Photo courtesy of mbusd.org

Students may also attend:



Elementary schools



Middle schools



High schools



Private schools